New unreleased song (2020) from After Dusk! "Love is a chemical haze" is a song about the concept of "Love at first sight". It started as an improvisation in the studio, while the band was rehearsing T.c.o.p.l. songs.
Recorded during "The Character of Physical Law" sessions (2016-2017).
Engineered, mixed and mastered by George Emmanuel (2018).
Composed by Paminos, Theodore & Bill.
Cover artwork by Tones (2020).
Released on May 15th, 2020.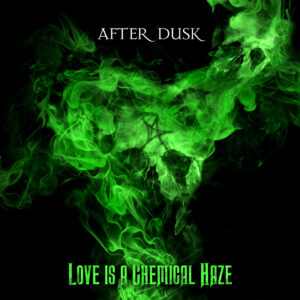 Bandcamp: https://afterduskmetal.bandcamp.com/track/love-is-a-chemical-haze-single
Spotify: https://open.spotify.com/album/1AZfanI2b4WkvHSso5OnSL
Apple music: https://music.apple.com/us/album/love-is-a-chemical-haze-single/1513441303
Amazon music:
Lyrics:
A few days now, a few days now
I feel I Am spellbound
I cannot smile, or fool around
And something dwells inside
I'm deeply concerned about this matter
And I'm contemplating its source
Hours have passed since I started to wonder
This spell is what I knew all along
How can she be the source of my sorrow?
How can it be I'm in love?
Or is it just plain evolutionary matter?
And I Am only a mere nature's pawn
A mere nature's pawn, who thinks is in love
Love's a chemical haze
Put my mind in a daze
Press quotes:
"After Dusk is a pure heavy metal band, who have future ahead of them. A band that needs to be heard. Oh, and "Overspeed" can become a small hymn!" – METAL HAMMER 9/2006
"After Dusk creates this rarely seen musical variety. Awesome album!!" – METAL REVOLUTION
"Hybris is a superb work, a tracklist of fire." – METALCRONIQUES
"After Dusk are probably proof indeed that pure heavy metal can exist…" – METAL TEAM UK
"…such a stunning release that many even well known bands would envy! You see, it literally has everything and its compositions contain bits and pieces from the vast majority of the metal genres. "The Devil Got His Soul" is a great album delivered with much passion and skill by a very talented band that deserves your attention!" – BEHIND THE VEIL WEBZINE
"Heavy and unforgiving, is one way to describe the sound of Greek metallers After Dusk. Their brand of heavy metal is a relentless pummeling of the senses, and when you've finished listening to their new album, you will know how concrete feels after it's been pulverised by a jack hammer…" – Metal Gods TV
"As heavy as fuck! Metal mastery, magnificently displayed." (10/10) – Jennytate's Blog
"This record is of great originality. After Dusk have established their own sound and style. With this effort, they have proven that experimentation is something important, if not essential, for a band to excel. I dare to call this LP one of the best of 2017" (96%) – METAL ARCHIVES
New song (2020)!