After Dusk 's new song "Destroyer of Love" will be released via Value for Nothing records on February 10, 2022. This is our first studio recording since "The character of physical law" sessions (2016-2017). A doomed love story arriving just in time for Valentine's day… Let us give you a "cinematic" audio experience and take you through atmospheric passages, Sabbathian riffs, thrash metal mayhem and piano greatness! Turn that volume knob of yours clockwise and enjoy some heavy metal music!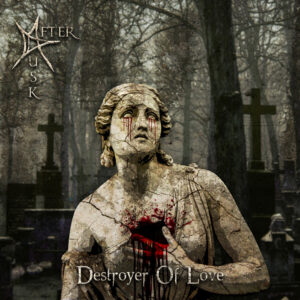 Composed by Paminos & Bill Giannakopoulos, Theodore Kallis.
Produced by After Dusk. Guitars recorded at Woodstock studio Athens, drums at PR studio, Vocals, bass and keyboards recorded at After Dusk studio.
Performed by: Paminos (Vocals), Bill (Guitar), Theodore (Keys and organ), Thanasis (Bass), Pericles (Drums).
Buy or stream:
Bandcamp | https://afterduskmetal.bandcamp.com/
Spotify | https://open.spotify.com/artist/3OWg6DVI4mKDnyqje87DAr
Apple music | https://music.apple.com/us/artist/after-dusk/342250676
YouTube | https://www.youtube.com/afterduskmetal
After Dusk is a heavy metal band from Athens, Greece founded in 1998. Here are some words written about us by some heavy metal maniacs around the world:   

"After Dusk creates this rarely seen musical variety. Awesome album!!" – METAL REVOLUTION
"After Dusk are probably proof indeed that pure heavy metal can exist…" – METAL TEAM UK
"Heavy and unforgiving, is one way to describe the sound of Greek metallers After Dusk. Their brand of heavy metal is a relentless pummeling of the senses, and when you've finished listening to their new album, you will know how concrete feels after it's been pulverised by a jack hammer…" – Metal Gods TV
"As heavy as fuck! Metal mastery, magnificently displayed." (10/10) – Jennytate's Blog
"This record is of great originality. After Dusk have established their own sound and style. With this effort, they have proven that experimentation is something important, if not essential, for a band to excel. I dare to call this LP one of the best of 2017" (96%) – METAL ARCHIVES